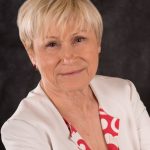 Joyce is a businesswoman, not a politician. She's driven to solve problems not make them. Her commentary on moving beyond government dysfunction is based on her 30 years of hands-on experience managing Fortune 100 business transformation activities – where she added over $2B to client balance sheets. America the "corporation" has great products and a great work force, but it's failing under a 20th century management team. Twice weekly listeners will encounter forward-looking ideas that can solve some of our vexing national problems.

To really fix the American economy we need a post-partisan, common sense government for the 21st Century
DO YOU BELIEVE AMERICA IS ON THE WRONG TRACK?
Join Us to Reimagine America
Commentary that Gets Behind the News
Economy & Competitiveness
Subscribe to our Newsletter