The only number that matters this morning is 25% — the percentage of Californians who will not vote in next year's Presidential Primary because they have told the Registrar of Voters they have No Party Preference.
Our guest this morning is Jim Rex. Jim is here to tell us that there is a third way for today's political orphans.  That we can be relevant again without surrendering to the extremes.
Jim followed a long career at the University of South Carolina with a term as South Carolina's Superintendent of Education — working closely with then governor, Republican – Mark Sanford.   Jim was a candidate for Governor of South Carolina in 2010.   Since that time, he has worked tirelessly to create a viable alternative "third way" to restore sensible, centrist government.
First, in South Carolina and now across the across the nation.  Jim instrumental in building momentum around  THE ALLIANCE PARTY .
It's a new idea and a new approach to building a political movement in the political center of the USA.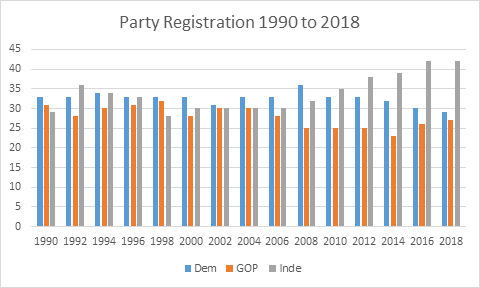 No matter at what point on this chart you start, the bleed from partisan to independent comes much more from GOP than Democrats. From 2008 forward, the erosion has been consistent and sharp.   There isn't a corresponding retreat in Democratic numbers until the 2016 election.
This pattern is remarkably similar to the mid to late 1850s which saw the rapid crumbling of the Whig Party following the acrimonious years of the Missouri Compromise and its successor Kansas/Nebraska Act.
The Republican Party – which first convened in 1854 as a mixture of disgruntled Whigs from the industrializing north and westward expansion agricultural states plus some morally conflicted southern Democrats – and elected Abraham Lincoln in 1860.
From zero to the White House in 6 years without radio or television or social media!
Who says it can't happen again?
With 42 percent of registered voters nationally claiming no party preference in 2018 – we may be on the cusp of yet another significant political realignment in 2020.  A 15% increase in population since 2000 plus a 30% increase in registered independents in the same period represents an exponential shift in the potential electorate for any given combination of candidates.
I've carefully reread the Constitution recently and found no clause that says there can be only two political parties in the United States.   In fact, the Constitution is mute on the subject of political parties because our Founding Fathers feared and reviled political parties.  The Founding Fathers were correct!   What do we talk about EVERY WEEK!
Perennial gridlock in Washington
One party nuttiness in Sacramento
What makes The Alliance Party different and an exciting new idea?